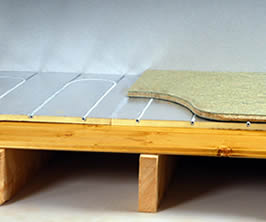 Floor on Floor Heating System

Profoil™ Floor on Floor Panels are manufactured to meet the client's individual project requirements and hence provide a totally flexible, bespoke solution that enables specific design and performance criteria to be achieved.
Profoil™ Floor on Floor Panels can be laid directly on an existing floor, avoiding the need to lift the current tongued & grooved chipboard or timber floor finish in order to gain access to the joists beneath (as would be necessary when fitting a Profoil™ Timber Suspended Floor system in an existing floor). However, the final floor level should be carefully considered when using this system.
The following table provides some necessary information to assist in the decision making process:
Insulation
Material
Panel
Thickness


(mm)

Edge
Detail
For Pipe
Diameter


(mm)

Groove
Spacing


(pipe centres)

Thermal
Conductivity


(W/mK)

Compressive
Strength*


(kPa)

Expanded Polystyrene


(BS EN 13163)
* at 10% compression
EPS 100
any
square
any
any
0.036
100
EPS 150
any
square
any
any
0.035
150
EPS 200
any
square
any
any
0.034
200

Extruded Polystyrene


(BS EN 13164)
XPS 2
from 20mm
square, T&G,or shiplap
any
any
0.029
250 ≤ 40mm
300 ≥ 50mm
XPS 3
from 20mm
square, T&G,or shiplap
any
any
0.029
300 ≤ 40mm
350Â ≥ 50mm
Terms and Conditions © Epic Insulation, All Rights Reserved